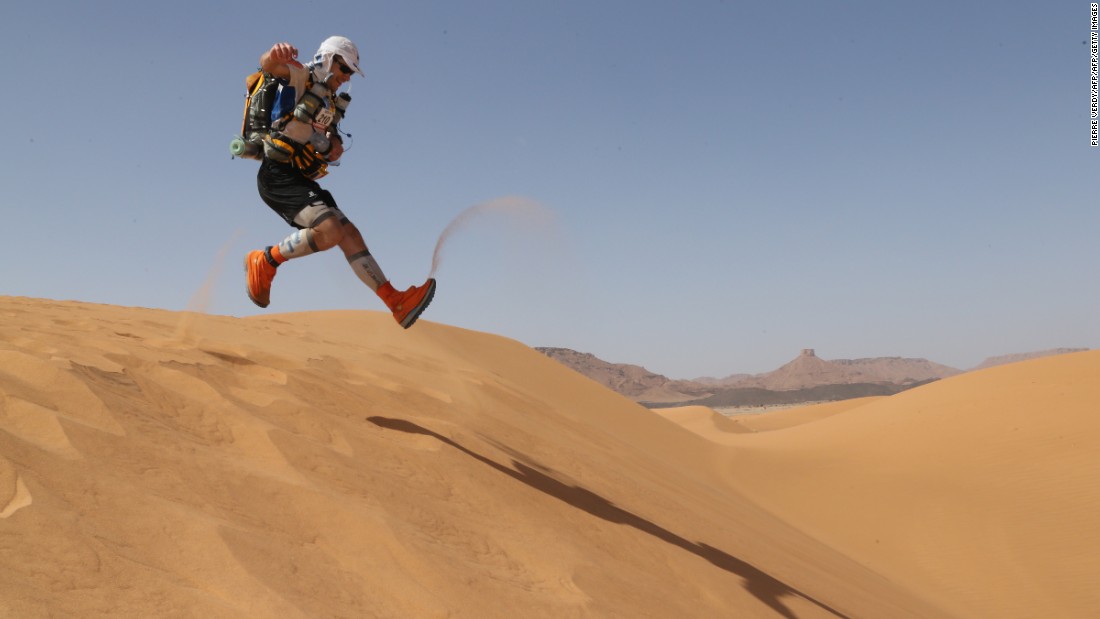 Getting in shape for vacation isn't just about looking good in a bikini.
In fact, the only way to make hiking through the Sahara Desert in roasting heat or skiing through the Arctic Circle any tougher would be to do it in a bikini.
One thing's for sure, competing in these events involves life-changing levels of fitness.
Three days, 160 kilometers and a whole load of snow.
Sleeping in tents, if they survive the fierce winds, competitors must negotiate temperatures around -30 C (-22 F) and hope their clothes don't freeze during the night.
It all starts on April 1 — but this is no April Fools.
"When you start the race then it's exciting but along the way you use all your energy," Nukannguaq Geisler of Greenland says on the competition's official site.
"So you get more and more tired. So the last 10 kilometers you think you can do it, especially the last day and when you reach the goal there's a lot of emotion."
Sounds a bit much?
There's the ACR 100 which covers, as the name suggests, 100 kilometers.
And there's also a short race for children.
There's one event that goes beyond all the others.
The 254-kilometer ultra marathon attracts daredevils from across the world with some as old as 78 facing the 49 C heat while running up and down sand dunes.
Even the rests sound grueling.
Runners must sleep in bivouacs along with seven other competitors.
They also have to prepare and pack their own food for the entire race.
This is not an event for the halfhearted.
Organizers advise weekly runs of between 160 to 190 kilometers in the lead-up to the marathon.
If that's not enough, wearing a practice backpack weighing between 3-10 kilograms is also recommended.
Anyone who hasn't been training at least three times a week for months on end can forget entering this one.
And if you not dare enter the full marathon but still want a challenge there is a new half marathon that will take place in September 2017.
Got three friends?
Then this could be the ideal challenge.
In teams of four, which must be mixed sex, competitors take on a course ranging from 600 to 800 kilometers, depending on the year.
The race route is only revealed 24 hours before the start and takes in a number of different conditions including the large glaciers of the Campo de Hielo Sur (Southern Ice Fields), uninhabited forests and running rivers.
Compass, map navigation and route planning skills are crucial for any chance of victory.
All teams will have to negotiate trekking through mountains, cycling and kayaking for up to 150 kilometers.
Only half of the teams that set out typically manage to finish the course.
It claims to be the world's longest ultra marathon by bike, foot or ski.
Staged in Alaska, it offers competitors the choice of running, riding or skiing 350 miles (563 kilometers) from Knik to McGrath, or pushing on 1,000 miles (1,609 kilometers) to Nome.
Training is a must — the freezing winter conditions are unforgiving.
"We offer very little support, and we wanna keep it that way. It's an adventure and these people have to be prepared," race director Kathi Merchant told Alaska's KSKA public radio.
"But also they're very much on their own and they do enjoy that solitude and the experience of the wilderness of Alaska. They don't want an aid station every 10 miles and people everywhere."
in 2014, David Johnston broke the record for the 350-mile foot record by reaching McGrath in just over four days.
John Lackey did the business on the bike in 2015 completing the course in one day, 18 hours and 32 minutes.
Results vary on the weather.
The failure of the entire field to complete the 1,000 miles to Nome in 2012 was down to appalling conditions.
But in 2014, 16 made it to the end within the 30-day limit.
The threat of scorpions, snakes, caimans, piranhas and jaguars are scary enough without throwing a 254-kilometer race into the mix.
It's billed as the world's toughest jungle marathon.
There's not just the fear of being eaten alive to contend with, there's also the 99% humidity and the 40 C heat.
That said, only 11 of the 41 who started the last race dropped out.
Those not up to the full distance can enter 127- or 42-kilometer events.
For the 2017 race, competitors must acquire nine qualification points from three races just to get a place in the event.
There's no room for part-timers.
Starting in Chamonix, France, the route takes in Italy and Switzerland, is 168 kilometers in length and has to be completed within 46 hours 30 minutes.
Not to be underestimated, it takes in seven valleys, 71 glaciers and 400 summits — not to mention the 9,400 meters of altitude.
But as the world's premier 100-miler, featuring jaw-dropping views, it's worth the effort.
Just a quick glance at the race information is enough to give anyone the chills.
According to the organizers, the trekking stage will "smash your legs."
The seven-stage race, held in September, is usually fought out between teams of four.
Those unlucky enough to have three friends mad enough to do it can compete in pairs.
Entrants need to be pretty flexible in all disciplines to cope with the trekking, running, kayaking, yet more running — and the rope activities.
How many armchair cyclists have watched the Tour de France on TV and thought, "I can do that?"
Well, this event lets them put their money where their mouth is.
Entry for 2017's event are already closed. Places go quickly!
Organizers lay on the full works for the riders with nine feeding stations and bananas imported from Guadeloupe and Martinique.
Last year's ride took place through the Alps, so building endurance and being able to sustain a high level of power is key.
This year's route promises to be just as challenging.
Read more: http://www.cnn.com/2015/11/10/travel/sporting-challenge-vacations/index.html